International Webinar – INTEGRATION NEARSIDE 2021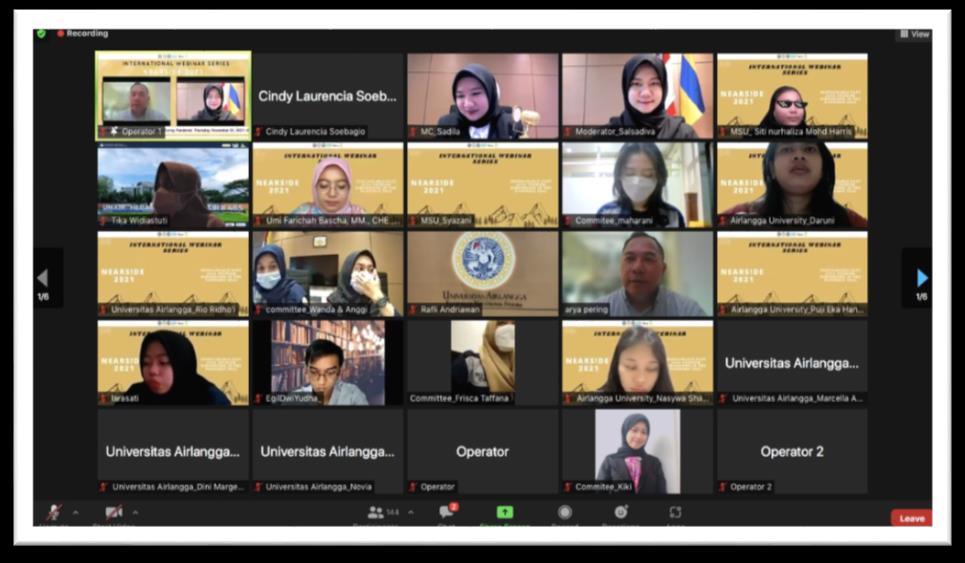 VOKASI NEWS – Students Association of Diploma Study of Hotel Management, Faculty of
Vocational Studies, Airlangga University has held a series of International Webinar for 4
days straight ( 24 – 27th of November 2021 ), carrying the "Sustainable East Java Tourism
Dimensions in The Pandemic Era" theme. This event was done online through the zoom
meetings app and YouTube live streaming on 'Chitchat Manajemen'.
This international webinar was held in order to introduce the history of the tourism and
hospitality industry in Indonesia, also overcome the tourism industry's problem through the
COVID-19 pandemic.
There are many great speakers who spark up the lineups and share their priceless knowledge
with the audience, among them: Dr. Wisnu Bawa Taru Jaya, S.E., M.M., Deputy of
Resources and Institutions, M. Yanuarto Bramuda, Head of Banyuwangi Culture & Tourism
Office, I Gede Arya Pering Arimbawa, S.E., M.Si. CHA., Head of IHGMA, Kaharuddin
Salamun, General Manager of Majapahit Hotel, Taufan Rahmadi, National Tourism Creative
Expert, Dr. Frans Teguh, MA., KEMENPAREKRAF's Expert Staff for Sustainable
Development and Conservation, Muhammad Bramuda, Representative of UNAIR
Cinematography and Ahmad Zainudin Hariadi, SS., Executive Chef of Garden Palace Hotel
Surabaya.
Each one of the speakers flattens the COVID-19 pandemic condition all across the countries
and Indonesia along with various problems and challenges that exist and need to be overcome
by the tourism sector, especially the hospitality. The speakers also explain innovations to
overcome and survive through the pandemic and post-pandemic.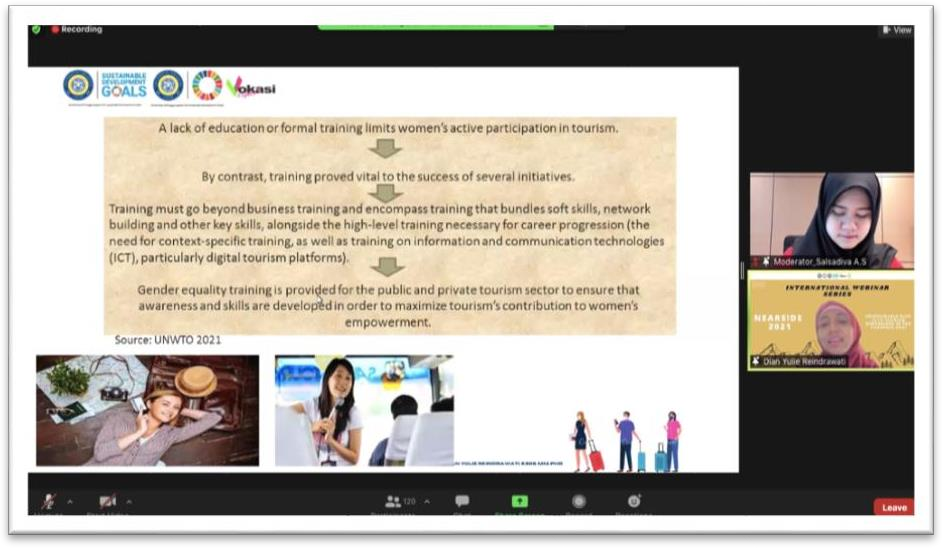 This webinar was attended by 300 local participants and 90 overseas students. they all spread
up from many universities in Indonesia and outside Indonesia, some of them are; University
of Legal and Political Sciences, Management and Science University, Daffodil International
University, Mykolas Romeris University, University of Technology Malaysia, TLDM, and
MLCKB.
Mrs. Dian Yulie Reindrawati, S.Sos., MM., Ph.D. as the Head of Hotel Management
Diploma Program said that this international webinar was successfully held for hours without
any serious obstacle, the speakers are able to present their materials and the audience get to
receive it well.
"This activity succeeded in attracting the audience, making them enjoy and listen to every
agenda thoroughly. There are always many questions asked by the audience in every QnA
session, there are also many enthusiastic participants on the game sessions until the
documentation session. The webinar's theme can stimulate the innovative spirit in every
audience to be more aware of tourism itself" she said.
Writer : Cindy Laurencia Soebagio
Editor : Bella Vionyta Putri